| | |
| --- | --- |
| Posted by Beverly on October 5, 2012 at 12:40 AM | |
You are determined to not slow down. You can now stay fit minus the pricey gym memberships. Check out these top stretching DVDs. They are cheaper than a gym membership, can be done in the privacy of your home and will allow beginners to hit the pause button to preview a move again.
Ready, set, stretch!
Can I Exercise Sitting Down?
After a long, hard day at the office, who wants to go to the gym and be intimated by an overzealous trainer? Author and fitness professional Renee Wiggins offers a simple thirty-day workout plan you can do from the comfort of your favorite chair.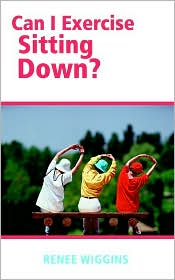 With detailed instructions and helpful photographs, Wiggins's easy and effective exercises will start you on the road to better health. To help you stay on track, you'll begin each day with a positive affirmation of your commitment to weight loss; you will ... Click on book above to read more!
You might also like:
Overview
People with age-related movement limitations or medical conditions such as osteoporosis and arthritis can also engage in these exercises. After an aerobic warm-up, Torkelson offers a 60-minute regimen as well as shorter workouts. Tips for problem areas, deep breathing, and stretches round out this healthful program. Read more, click on book above!
As a person with MS, I bring a personal commitment to the work I do.